Turn your TRASH into CASH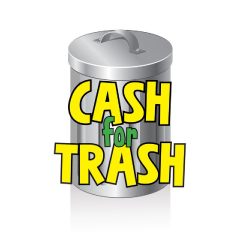 How to make money selling your trash… 
Turn your trash into cash.
You may be sitting on a pile of cash and that cash can be better spent putting it towards your home deposit.
You also get the bonus of a more organised home. The only real skill involved in turning your trash to cash is making a concerted effort to get started.
So start now!!
To make the processes relatively easy to start, set an empty box in most rooms of your home. When you come across an item you no longer have a need for, toss it in the box. When the boxes start to fill up, take time to sort through the belongings and decide where to go to turn it into cash.
Tidy your space and transform your life!
There are quite a few options for your items to be sold or traded. Between the internet and local connections, you should test out several items to find what works best for you. Here are a few choices to get you started:
Pawn Shops/Cash Converters
This is a great choice for items that have value and are still in good condition. Jewellery, tools, electronics, household electrical goods and quality sports equipment etc can all be turned into cash instantly.
TradeMe/Neighbourly/Marketplace/Facebook
These websites are a good choice for items that hold value as collectibles or hard to find items. Some websites offer no success fess.
Garage Sales
If you have the space and the time, you can set up your own sale at home. Offload your items for a considerable discount to get rid of the clutter. You may not make a ton of cash with such drastic discounts but it can certainly be a fun way to earn some money to get that debt paid off or to put some additional funds into savings.
Scrap Metal Dealers
Not worth selling as its broken or old etc? Certainly worth taking to your local scrap dealer who will pay you on the spot for anything metal. Old washing machines, bikes, taps, car batteries etc you'll be surprised what they take!
Scrap car removal
Old, broken or scrap car in your yard? Turn it into instant cash – they come to you, pay on the spot and remove for free. Cash in the hand and more space in your backyard, it's a no brainer.
So get to it….  start seeing yourself sitting on a pile of cash $$$